509 Malaysia Election Day
8 May, leaving from town at 10pm. All the way to Karak Highway Toll, jam. We drove about 4~5 hours, then only arrived Karak. Take a snap sleep. 6am woke up, and drove straight to Kuantan. 8.30am arrived destination. This is the day, the longest jam, in my life. The important day in my life. Changing government day.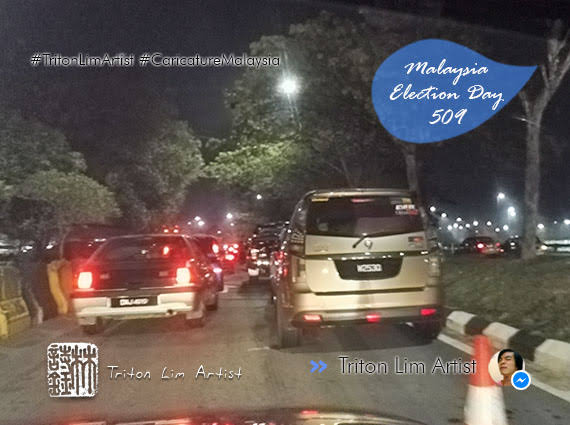 After everything done in election. Quickly rush back to town. Entire trip, so so so tired. I just wish NO more BN, NO more Najib, NO more corruption, NO more unknown murdered cases, NO more interfere in media news publishing, NO more GST, NO more old thinking in religion topic... Eventually, result came out. New Government form under Pakatan Harapan. And the New Malaysian government has declared that Polling Day on May 9 too.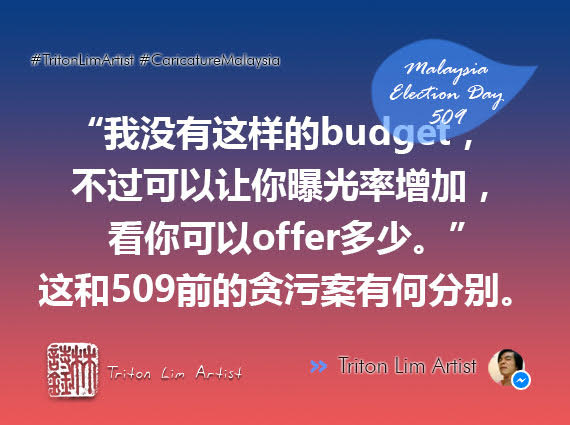 Malaysia Day, No More Corruption
This is new hope. New Malaysia formed. New government formed. New leader. New team.
I do hope too, in ours caricature line, some of the organizer still try to take benefit on artist. And some of the caricature artist, still want to take the benefit, so called
"Reputation", "Exposure Rate"
. I think this is no difference with government corruption in the past government. If you are professional caricature artist, please try respect your profession, this is your property, this is your asset. Imagined that, if you are Top Chief, people come in and order, and they say, "I can't pay such price, but I can introduce you more client, can you give me cheaper price". Definitely NO.
Please STOP doing that. It will help reduce organizer who try taking advantage. It will help market grow healthy among the artist too. Now is new government some more, are you still want to be old thinking people.
People know you based on your food taste. NOT because you giving cheap, just for reputation.
Caricature Artist Malaysia - Triton Lim Artist, always emphasizes on this to others.
509后的你
就比如,你今天是位厨师,顾客喜欢你的菜,必然向你买单。而不会向你讨便宜占便宜。"老板,这菜很好吃,不过我给不到这样的价钱,可以我可以让你知名度提高,你可以便宜给我吗?"其实509后,我们都知道贪污案超级严重。是想想,你一味为了曝光,不顾一切接受对方提案,这和贪污案有什么分别呢。"

尊重自己的专业。哪怕没有人认识你。也不要做些违背良心的事。让更多不良策划家也明白这道理。市场自然也会还原一个光芒。509的改变,应该人人都要有自身改变的意识。别再缠着不好的恶习。